Used Boats:
17
Adverts Displaying:
1
-
10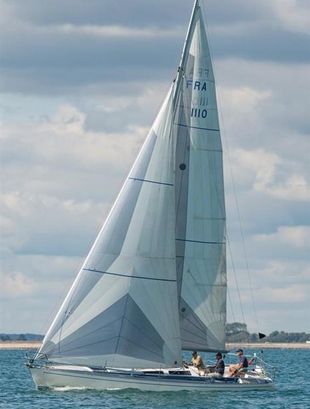 A great looking, fast sailing machine listed with Sunbird in St. Malo. Known as Dynamic 35 in Germany and as Chaps 35 in France. Owner has bought a Dynamic 40 so is a keen seller, open to offers. The boat needs some basic TLC to put a smile back on her face. Chaps 35 élégant et rapide. Prix à débattre. Le propriétaire a acheté un Dynamic 40. Le bateau a besoin d'attention cosmétique à l'intérieur pour retrouver sa beauté. Inventory Sails - Asymmetric Spinnaker 65m2 (good) - Symmetric Spinnaker 72...
read more
Year:
1986
Length:
10.700m
Location:
Brittany France
Price:
€25,000 Tax Paid

View Details
"And now for something completely different..." Sunbird in St Malo are delighted to offer this pocket sized modern classic from the pen of Daniel Z Bombigher, best known for the Schpountz series. No1 of only 2 yet built to these plans, the Tender Dream is a charming weekender, beautifully built by Teck et Acajou / St Malo Classic Boat, of strip planked, laminated timber, epoxy coated. She was little used by her first owner, restored by her current (second) owner and currently tucked up in a barn. The owner is relocating abroad and the boat needs just a little pre-season love and atte...
read more
Year:
1996
Length:
9.000m
Location:
Brittany France
Price:
€25,000 Tax Paid

View Details
Sunbird in St Malo are pleased to present this extremely well equipped Oceanis 55. Her one owner has loved her and really enjoyed her. 3 cabin, 2 heads version. Incidence D4 sails. Generator, bowthruster, electric winches ... thoroughly sorted out for comfortable fast cruising. Please see the full inventory. Contact us for details of her lease. Please note that specification, photos and price for this yacht in other on line listings are incorrect. Sunbird à St Malo vous présente ce super Oceanis 55, avec inventaire plus que complète. Voir sous "voir toutes les ca...
read more
Year:
2016
Length:
16.780m
Location:
Attica Greece
Price:
€415,000

View Details
Sunbird are delighted to offer a really well built Dutch inland cruiser, perfectly coastal capable and having benefitted from serious maintenance and a long list of improvements in the last 7 years. No expense has been spared, but sadly the owner has passed away before he could properly enjoy the fruit of his efforts and investment. The boat has just been professionally valeted, and new photos added June 2020. Super vedette fluviale, construction Hollandaise de qualité et depuis 2013 un lourd investissement dans l'entretien et l'amélioration, le tout fait par des professionn...
read more
Year:
1994
Length:
11.800m
Location:
Ile-de-France France
Price:
€99,000 Tax Paid

View Details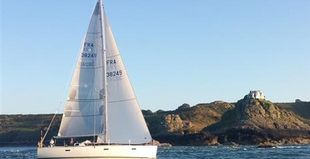 Sunbird in St Malo are pleased to offer this high quality Marc Lombard designed lift keeler built by Wauquiez. A genuine dual role yacht, slippery fast on the race course, but comfortable and practical for cruising near or far. Extensively equipped for her participation in the 2018 Route du Rhum, the inventory is impressive and the boat is in lovely condition. As of May 2020 she is stripped for the winter, and her owner, who has had health issues and is about to be operated on again, is a serious and realistic seller. La qualité Wauquiez, la génie de Marc Lombard. Rapide mai...
read more
Year:
2009
Length:
11.430m
Location:
Brittany France
Price:
€199,000 Tax Paid

View Details
We love all the boats Jean-Pierre Kelbert builds and have sold and raced many of them. We know the 10,80 particularly well and are delighted to offer Shaitan which we have been involved with since 2016. She has a great record 2 handed in RORC races and the Transquadra, and was in our friend Jock Wishart's winning Celtic Commodore's Cup team in 2018. She is mega optimised and oozing great ideas. Whatever type of racing you do, you will find just how far ahead of the pack she is. Immaculately maintained professionally. New photos added 08 June 2020 . Un magnifique JPK 10,80 en super &e...
read more
Year:
2015
Length:
10.800m
Location:
Hampshire UK
Price:
€235,000 Tax Paid

View Details
Sunbird in St Malo are delighted to offer this lovely classic Wauquiez Gladiateur 33, being sold by a very good old friend. Loved, maintained and updated over the last 20 years, she is ready for a new chapter. Gladiateur Wauquiez en TBE, clés en main. Hiverné au sec, fort bien entretenu et mise à jour. Inventory & Remarks Wauquiez Gladiateur 33 Cordon Bleu SSR NO139499 General The Gladiateur, designed by the British architects Kim Holm...
read more
Year:
1978
Length:
10.000m
Location:
Brittany France
Price:
€29,900 Tax Paid

View Details
Your Yacht Broker at Sunbird in St Malo was involved in the creation of the Hanse brand and maintains close relations with the yard and its people. This Judel/Vrolijk design shows Michael Schmidt's aim of providing a "down east" New England feel, with white bulkheads making the interior light and bright, as well as emphasising the varnished woodwork. Tamino has been immaculately maintained as the photos show. Now étions là à la création du chantier et maintenons des liens presque familials. Regarder les photos de ce bateau parfaitement entretenu. Lumi...
read more
Year:
2008
Length:
9.600m
Location:
Brittany France
Price:
€65,000 Tax Paid

View Details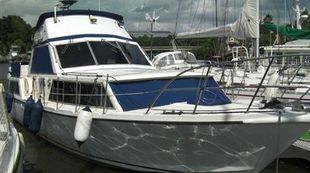 Sunbird International Yacht Sales in St Malo are pleased to offer this lovely motor yacht. She really has been well kept all through her life, not bodged and fiddled about with like so many others. She retains her original look and feel, but has been properly maintained and updated. She is well worth seeing! Un très beau bateau, fidèle à ses origines, pas bidouillé comme autant d'autres. Toujours bien entretenu il maintient son vrai charactère. Confortable, fiable, capable. Une visite est vivement conseillé. Mechanical 2 Perkins T6.354 ...
read more
Year:
1974
Length:
11.890m
Location:
Brittany France
Price:
€28,000 Tax Paid

View Details
Carroll Marine built Farr designed Mumm 36 imported from USA in 2011 and totally rebuilt and refitted. Re-rigged with aft swept spreader rig (no runners required) and regularly updated including recent hitech racing sails, deck repaint and engine service. IRC optimised and winning! Mumm 36 totalement refait depuis 2011, avec gréement à barres de flêches poussantes et voiles récentes. En TBE Inventory and Remarks Weight 3950Kg (endorsed), Current IRC rating 2018 1.047. Description Mumm 36 modified for IRC. Top 3 in every series entered this ...
read more
Year:
1993
Length:
10.920m
Location:
Devon UK
Price:
£29,950 Tax Paid

View Details